Earlier this year, a very skinny and skittish Siamese cat was spotted around Kingston, Ontario, struggling to survive on the streets.
When a Good Samaritan, concerned for the cat's health, managed to trap the stray cat, it was clear that months of living on the streets had left their mark on her.
Thankfully, there was a place nearby whose sole purpose was to help animals in need: Happy Tails Farm Sanctuary, run by Carla Reilly Moore and her husband, and home to so many animals who have managed to transcend their pasts of pain and neglect.
This cat, newly named Sapphire, had more than just fear to overcome: She had crusty, infected eyes and a strange limp. At the vet, it was discovered that the cat had no microchip and had a broken pelvis.
"It could've been a car, or she could've been kicked, we just don't know," Moore told The Dodo at the time. "She's been suffering by herself, alone in the streets for two weeks without any pain medication."
Moore had her hands full. On top of her usual work caring for all the rescued animals at the sanctuary, she had just given birth to a baby girl, Mary, in May. But there was no question: The family's newest member was Sapphire.
And the shift from scared street cat to a loving member of the family turned out to be more than an easy transition.
At first, when Moore brought Sapphire home from the vet, the cat was terrified. She hid under the bed for 24 hours. Then, quite suddenly, she emerged — and she was ready to snuggle.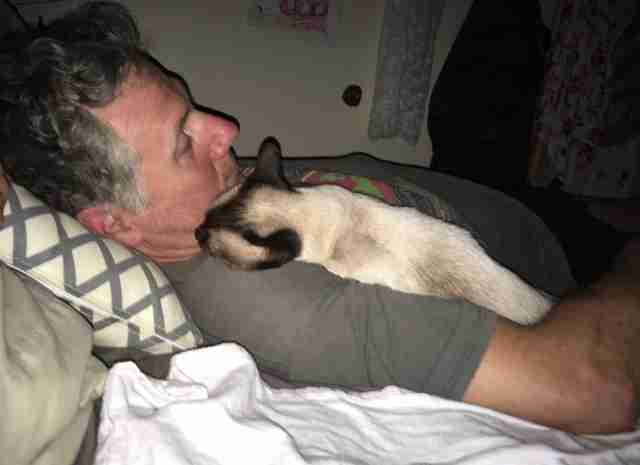 "Out of the blue she hopped up on our bed, quite awkwardly due to her pelvis, and went straight to my husband," Moore said. "For the next couple of days she lavished my husband and then me while little Mary laid with us on the bed."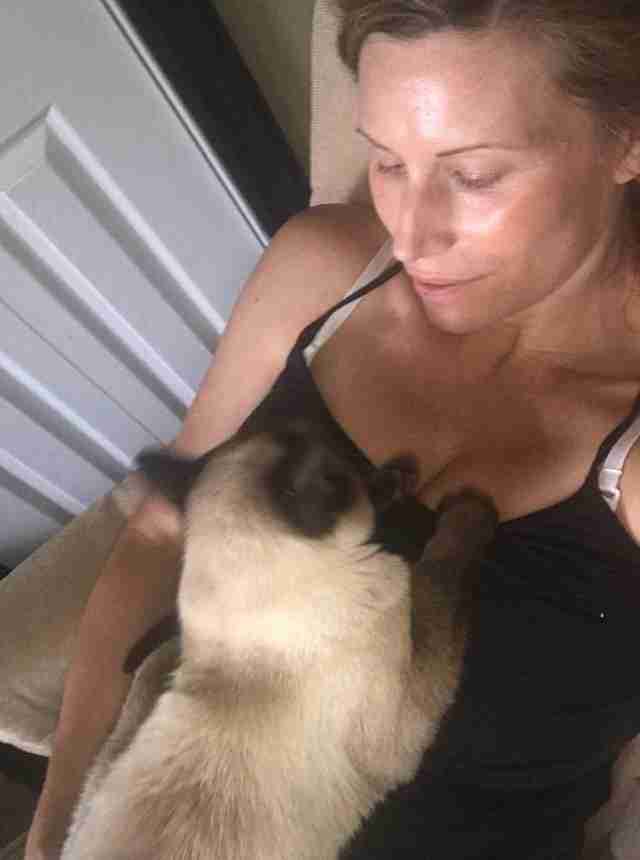 As Sapphire was bonding with Carla, Carla was often taking care of Mary, holding her and nursing her. But that didn't stop Sapphire from including herself. Indeed, the cat seemed more and more interested in the little newborn baby.
Then Sapphire started just snuggling up very close to Mary.
"We've never seen a cat do this before," Moore said. "Their bond grew faster and faster. It was really unbelievable!"