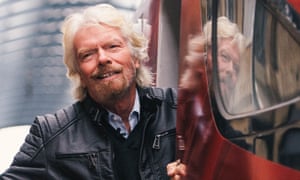 Sir Richard Branson's Virgin Group will have taken at least £306m in dividends from Virgin Trains by the time the firm's 22-year tenure as a rail operator
comes to an end within the next 12 months
.
Analysis by the Guardian indicates that Virgin Rail Group Holdings, the joint venture company, will have collected at least £600m since its launch in 1997, a figure that drew criticism from Labour.
The final total is likely to be higher once this year's dividend is declared when the company's next set of annual accounts is published in October next year.
The highest dividend in a single year was paid in 2009, when Virgin Rail Group paid out nearly £95m. The figure has hovered around £50m over the past three years.
Andy McDonald, the shadow transport secretary, said: "This money could and should have been used to invest in services and hold fares down, not siphoned off by shareholders.
"The railway should be run as a public service in public ownership. Instead, absurdly, its run in the financial interest of foreign state-owned companies and billionaires such as Richard Branson. If Virgin disappears from the railway as Branson warns, it won't be missed by taxpayers or passengers."
The company said passenger numbers had nearly trebled from 14 million to 40 million a year under its stewardship, adding that it has led the way on innovations including digital ticketing, on-board entertainment and automatic compensation for delays.
Virgin's trains have run on the London to Glasgow line for 22 years and its joint venture with Stagecoach is due to expire on 31 March 2020 at the latest. The government is to award the next franchise this June and, if the winning operator says it can start running a service by November, the handover would be brought forward.
Stagecoach said it had been informed that its bids were not compliant with the government's terms, triggering an outpouring from its longstanding partner on the West Coast route.
"We're baffled why the DfT did not tell us that we would be disqualified or even discuss the issue," he added, referring to a dispute between Stagecoach and the government over how much of rail staff pension liabilities the company is willing to share. "They have known about this qualification in our bid on pensions for months."
The government's row with Stagecoach centres on a big deficit in the Railways Pension Scheme. The Pensions Regulator has said up to £6bn may be needed to plug the gap, but the train companies have insisted that the government should support the scheme.
Stagecoach said the private sector should not be expected to bear long-term funding risks for parts of the Railways Pension Scheme, which invests more than £20bn for railway employees.
The decision drew criticism from Jeremy Corbyn, who said it indicated that the railways should be nationalised.